In my "free time" as a PhD candidate at the University of Tennessee, I of course like to catch up on my reading.  For most of this year, my free time was dedicated to study for my comprehensive exams (which I passed a few months ago!).  There was one book that I had my eye on for months that I wanted to read when I had a chance:  Engage! by Brian Solis.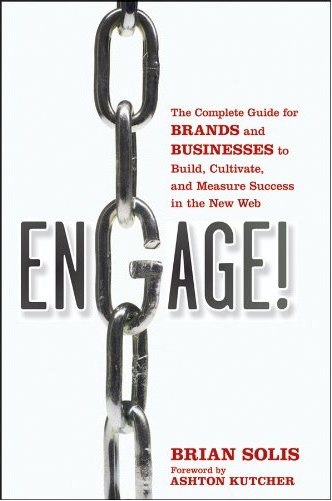 I thoroughly enjoyed Brian Solis's last book with Deirdre Breakenridge "Putting the Public back in Public Relations."  In addition, I have frequently referenced Brian Solis's work in both my research papers in social media, comprehensive exam questions, and will do so for my dissertation (an experimental design focusing on social media and crisis communications).  I finally had the pleasure to sit down this afternoon with Engage! (you might also want to check out this very neat social media presentation on Prezi by Brian Solis as well) and fully explored what the book has to offer – and yes, I finished the book in one afternoon since I was not able to put it down! 🙂
Engage! offers so many tools, strategies, and tips for young professionals about how to not only be aware of social media, but how to apply it strategically to their own business, marketing and public relations campaigns, and what they need to do in order to manage their own personal reputation online.  What I really like about this book and what Brian Solis does so well is that he walks the walk, and talks the talk when it comes to social media and engaging various audiences.  He is not only writing about engagement, but you feel as you are reading the book that he is talking to you about it – this really stood out for me about this book.  The tone was like a conversation that you would have with another person about social media – and what is really great is that Brian Solis offers you not only an introduction into social media, but there is so much wealth of knowledge in the book that I felt so many ideas for research and PR projects after reading that I was like, wow!  This is absolutely amazing! 🙂
Another aspect of the book that I thoroughly enjoyed and appreciated was the fact that Solis is advocating that we (the reader) take the role of a champion when it comes to embracing new technology and social media.  It takes a champion to do what is right for the customer, brand, and individuals involved that have concerns or questions that appear on social media.  It takes a champion to proactively address new issues and conversations emerging online.  Finally, it takes a champion to go into new, unexplored territory.  This is the type of attitude that young professionals and others need to have when it comes to social media – we have to embrace new technology and not be afraid of it . We have to be life-long students when it comes to new technology – and put in the extra effort in educating ourselves and others about it.  It was very refreshing to read this in Engage!
After reading the book, I do have a few suggestions for Brian to consider for his future books.  First, I think that this is a very useful book to incorporate into the classroom, especially in Public Relations courses.  I really liked the New Media University concept in Engage! – I think that this is very appropriate and useful for young professionals and academics to look at and use in their classroom.  I would be interested to see maybe a CD or electronic file (or link to an online presentation site like Prezi) with electronic versions of these chapters as well as possible assignments to incorporate social media into the classroom.  What about an electronic reference list with the reports and sources used in Engage!?  Also, what about incorporating a list of videos (ex. YouTube) and other multimedia presentations  along with the book?  Students today do like visuals incorporated into lecture presentations, so I think that this would be extremely useful for professors to use in their courses.
In addition, I really did appreciate the section about reputation management – this is one area that I am researching in as well as consulting.  It would have been interesting to incorporate a crisis communications and reputation management section with some of the current case studies happening with social media (ex. BP Oil Spill, Nestle Facebook, and Toyota Recall) – maybe for the next book?  Also, one thing that I noticed in the book were the references.  Most of the references used in Engage! came from reports, blog posts, or news articles – but I saw very few from academic journals.  This was interesting for me to see – even without these references, I felt that there was a very rich content in Engage! in terms of expertise regards to social media practices, trends, strategies, and other aspects of the new technology.  There are some studies focused on social media that the academic community frequently reference, and I would be interested to see what Brian Solis thinks of these particular research studies, and if he would be incorporating a section on academic research in social media in his future books.
Finally – I think that a very useful future book or project would be to create a Handbook for Social Media:  Theory, Research, and Strategic Application.  In each chapter, a professional or researcher in the area would write a chapter about social media in a specific realm of their expertise (ex. measurement, theory, fundraising, reputation management, marketing, business communications, cause marketing, crisis communications, employee relations, etc) and Brian Solis could be the editor and comment on each these chapters as well.  This will not only be an extremely useful resource for both students and professionals, but this collaborative project will bridge the gap between the academic and practitioner communities when it comes to social media.  Just a suggestion! 🙂
Overall, in my opinion, Brian Solis has again written a very rewarding, rich, and engaging (:)) book for all professionals to read.  The book is the ultimate source of information when it comes to social media – and Brian Solis is indeed the expert in this.  This is a must-have book for any professional, researcher, or student in Public Relations – I will be incorporating Engage! in not only my classes, but also cite it in my dissertation.  You can get it through Amazon, Borders, or Barnes and Noble to name a few stores.  Keep up the great work, Brian!
Hope you all are having a wonderful day.
Best Wishes,
Karen