Selfies are pretty much everywhere – and it is interesting to see how they have been incorporated not only for personal uses, but also of course in social media strategies and campaigns. There have been some pretty successful ones recently. For me as a social media professional, it's interesting to see how this viewpoint and perspective has captured pretty much everyone from large brands to celebrities.
One of the things we have here at UofL that is pretty cool is a group to come up with ideas, strategies, and possible campaigns that could potential turn viral for the university. Why do we do this? Well, it's to create engaging, visual, and entertaining content that is branded and part of the UofL brand as a university, community, and family in essence.
We had done the UofL Happy video a few weeks ago, which of course went viral – so the question came up in the group. Like Anton Ego said in the movie "Ratatouille" – okay, what does the chef (or group) have that is new?
No pressure, right? However, this is what makes me excited to be part of. Coming up with ideas and new ways of thinking that can be applied that no one else has done. Pure awesomeness in my opinion!
Well, after looking around and seeing what we could come up with, I saw that there was a new song that was actually called "Selfie" by The Chainsmokers that came out and one of the things I thought would be interesting would be to see if UofL could incorporate this somehow.
I added a link to the video and shared this with the group, and this began the second viral video campaign for the university. Jeff and his team did an exceptional job with this by remixing the lyrics to be tied to the players of both basketball teams at UofL and asked the UofL community for selfies displaying their pride in UofL. More than 400 selfies were incorporated into the video I believe – ranging from students, fans, faculty, student-athletes, celebrities, and even media personalities who are part of the Louisville community.
Here was the video that was finally created and launched yesterday by UofL: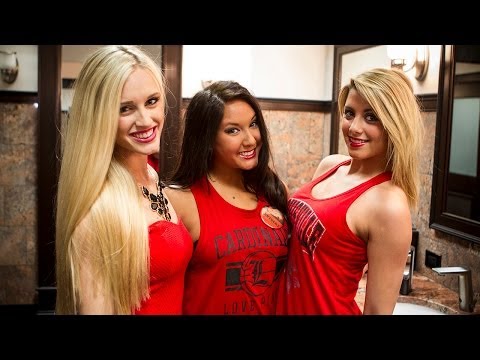 What did we learn from this campaign? There are a few takeaways here that we can look at from a strategic point of view of social media in my opinion:
Social media is a team effort, especially for launching viral campaigns

: This was not a one person effort – but a huge team was involved in brainstorming, helping out, and contributing to the overall vision of the campaign. We had a great leader for this group with Jeff who really set the tone for this campaign, and it was fun to see how this was developing over time.

Understanding timing is of the essence

: When it comes to viral trends, you want to get on board with it as soon as you can. Planning, strategizing, and organizing people and how they can help contribute to the overall vision was key.

Branding and tying back to university is key:

I did have a concern when I saw the lyrics with this song and made a comment on how we may want to remix this to fit UofL – it's about connecting the dots and making the bridge for the viral trend back to the brand. Those that have been successful have been able to do this and created a great overall experience for everyone.

Anyone can "cook" or have a great idea:

This is one thing I have shared with my students and I thoroughly believe – anyone can come up with a great idea. You have to evaluate, monitor, and consider all of the elements that are available to you while trying to think outside of the box. What makes viral stories emerge as prominent factors is that it's all about the creativity and engagement that comes with a great story.

Always have Plan B for ideas for social media videos:

One thing is key to remember, you always want to have a few ideas in your back pocket that you can share with your team to help generate the brainstorming aspect of the campaign. While this idea worked, there were several others that we could have implemented. The more ideas you have, the more opportunities you have to engage your team to come up with others down the road.
Overall, this was a fun campaign idea to be a part of and congrats to the team and UofL for another great effort for a social media viral story! Looking forward to see what we come up with next.
Hope you all are having a great day!
Best Wishes,
Karen