It's been interesting to see how professors over the years have engaged not only in the classroom with their classes, but also be creative and how they engage their students and others using social media. There have been many ways professors have used social media in the classroom, especially Twitter. More universities are offering services to professors and others who may be interested in how they could use these platforms for their classes.
However, there are some who may feel by having social media as part of the classroom, it is "killing" our classrooms. Well, there are of course some challenges we as professors have to be aware of when it comes to introducing a new form of technology to class. Yet, I am on the other side of this stance when it comes to the classroom. If implemented professionally and appropriately, I think classrooms thrive with the opportunities with social media. I discussed some of these opportunities as well as a few myths when it comes to social media for professors a few months ago at the UT Social Media Week event. Here's the video: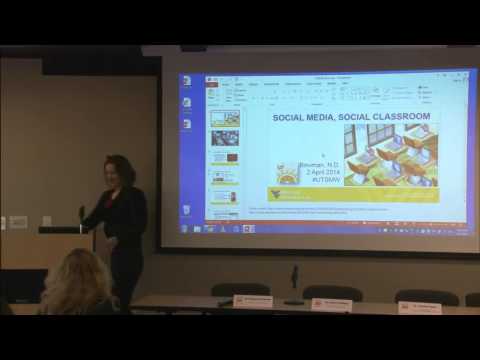 So, the question arises regarding this current stance we are seeing in higher education when it comes to social media: how do you create a real engaged classroom when it comes to social media for professors?
Be part of the class community with your students: Assigning students to tweet, post pictures, or write blog posts is one thing. However, as a professor, you need to do this as well. Lead by example and show students what you are doing and learn with them.

Invest in your online persona as a professor

: If you are asking your students to create an online persona, you as the professor need to establish one yourself. Share what you are doing in terms of research projects. Do interviews with leading professionals on their podcasts. Create content on your blog to share with others. Reach out to fellow professionals and share relevant content that may be of interest.

Bring networking and guest speakers to your class through virtual networking practices:

Help introduce students with professionals on Twitter to practice virtual networking.  Make sure to encourage to reach out to fellow professionals, brands, and others in industries they are interested in. Also, discuss the practice for curating and creating practices as well to help contribute to their online personal brand.

Be an explorer and test our new ideas:

It appears that every professor now has their own hashtag for a class, set up a Twitter schedule, etc. However, how are you as a professor really going to make a memorable impression? Combining content and be innovative with how you communicate this material for the class to ignite a conversation will separate you from others. Whether it is Vine or even Instagram, there are a lot of possibilities here.
Overall, as a professor, you have to determine what will work best for you for not only your students, but also consider what are the goals and expectations you think they should have after they leave your class. Being a resource and engaged in the technology to help mentor and support them is also important for their success after graduation. Social media is constantly evolving, and as professors, we have to be aware of this as well as adapt to these changes as well.
Hope you all are having a great day!
Best Wishes,
Karen